Skip to Content
1400 Watertower Rd, Lake Park, FL 33403, USA
Marine Construction Builds Your Dream Dock and More
Serving Northern Palm Beach County for 35 Years
Some companies may have marine construction in their available services, but our team is Marine Construction. For 35 years, residents in Northern Palm Beach and Southern Martin County have relied on us for all their dock building needs. We come equipped with all the best tools and materials, as well as the training necessary for us to be successful. Each team member is licensed, bonded, and insured to give you the highest sense of confidence when hiring. Our design team works with you to ensure everything you want from your dock is placed in the initial sketch-up. Give us a call today to begin the process and see how our team differs from others in the area.
Dock Services From Marine Construction
Living on the water should be enjoyable, and with the dock services from Marine Construction, you can host events, have a place to park your boat, and so much more. We dedicate ourselves to ensuring you have the best experience when looking over the water. To make this possible, we only use the industry's best options when it comes to materials and our tools back up our devotion to our clients. Check out the dock service and other builds we offer below, and give us a call when you're ready to start a new project: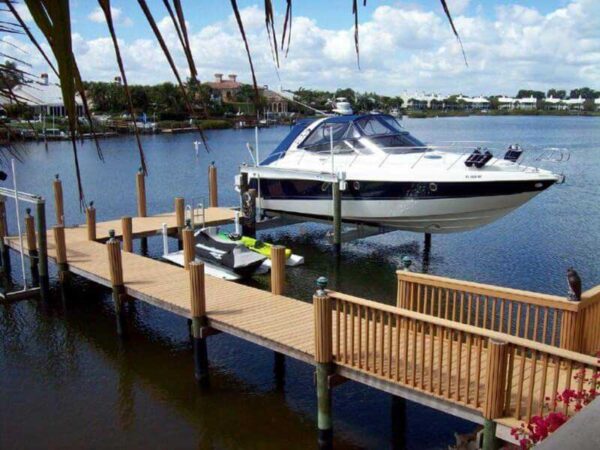 Boat Lifts: Marine Construction is the number dealer of Hi-Tide boat lifts in North Palm Beach County and the surrounding areas. We can build all kinds of boat lifts as well including, electric, floating, free-standing, and overhead boat lifts.
Docks: Increase your living space and enhance your water viewing experience with one of our docks. Our well-crafted options include decks, dock extensions, dune walk-overs, and decorative bridges
Seawalls: Protect your property from erosion, maintain environmental sustainability, and create a gorgeous shoreline with our handcrafted seawalls.
Marine Maintenance Services: Just like your car and house, the dock we build will need regular maintenance to ensure stability and durability. Count on us for dock preservation and sealing, boat lift services, and dock repairs.
Accessories: Trust us to fully build out your dock with everything you could dream of. Bumpers, dock boxes, ladders, lighting, mooring whips, piling caps, railings, tide slides, and more are all available as add-ons to your dock from Marine Construction.
Available Service Area for Marine Construction
Homes all across the Northern Palm Beach County area and beyond have trusted our designing and install teams to construct them the dock of their dreams. We help you increase your home's value as well as the experience you, your family, and friends have while on it. If you live in the following areas, give us a call today to work on or build your new dock:
Admiral's Cove
Frenchman's Creek
Frenchman's Harbour
Hidden Key
Islands of Jupiter
Jonathan's Landing
Lost Tree Village
Prosperity Harbour
Call on Marine Construction Today for Dock Building
If you have further questions about the process of what dock services Marine Construction can provide your home with, please do not hesitate to call us. Our team of trained and licensed professionals cannot wait to help with your new dock and our maintenance teams have all the knowledge and tools to keep your existing one afloat. Reach out today and speak with our designers or installers to get the dock services you need swiftly.