Skip to Content
Seawall Repair & Construction
Trust Our Experts for Seawall Repair in Palm Beach, FL
We'll Help Protect Your Waterfront Property
Living next to the ocean comes with many perks. You have beautiful views of the water and easy access to the beach. However, the ocean waters are also very powerful, and when Mother Nature brings in a storm, it can quickly overtake your property if you don't have property protection. Most waterfront properties have seawalls to protect the area from surging water, but these walls require regular monitoring and upkeep to ensure they stay in good condition. Marine Construction can complete seawall repair at properties in Palm Beach, FL and throughout Martin County. Please contact us today for additional information.
The Purpose of Seawalls
A seawall is a structure that is built parallel to the shoreline as a way to protect the inland area and prevent coastal erosion. During storms, water can surge toward the shore, and without any barrier, it can reach homes and other structures built near the water. A seawall will help to stop the surge and protect properties that border the ocean. They are a necessary addition if you live near the ocean or any large body of water.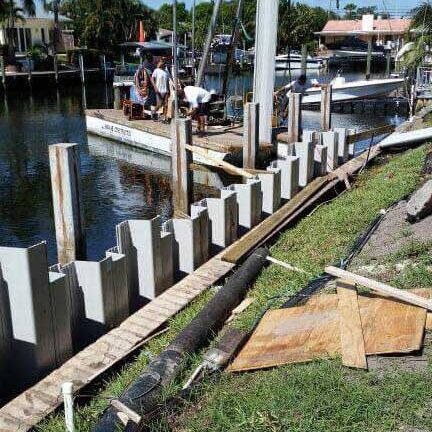 We Can Construct Many Types of Seawalls
Seawalls can be made from a variety of materials, but their primary purpose remains the same – protect the land from storm surges. Our team has experience building, repairing, and replacing seawalls of countless different materials. No matter what type of seawall you have, you can count on our team to be able to determine the best method to fix it and return it to its original strength. If, for some reason, your wall is significantly damaged, we can also build a replacement. Our team can handle problems with all types of seawalls, including:
Aluminum Seawalls: Aluminum resists corrosion well, which means these types of walls could last longer. However, waters with low pH levels could speed up this process. In addition, aluminum is very lightweight, so it's often not a good choice if you need a tall wall.
Vinyl Seawalls: Vinyl is a good choice for long-lasting seawalls, as it can last more than 50 years. However, walls made from this material have height limitations and cannot be driven into hard surfaces like rocky terrain.
Concrete Seawalls: Concrete is a popular choice for seawalls, as it is heavy and strong and can last many years. Seawalls made from concrete will require more maintenance, including the filling of cracks and holes that occur from natural breakdown.
Wood Seawalls: Seawalls made from wood offer a low-cost alternative. Though it does provide protection, wood seawalls do have limitations and require pretreatment to prevent rotting.
Seawall Repair vs. Replacement
All seawalls will need to be repaired or replaced at some point in time. A professional will be able to determine if your wall is in need of some attention and whether repair or replacement is the right option. Our team has experience repairing all types of damage to seawalls, so we know the best methods to keep your wall in good shape. We also have extensive experience replacing or constructing new walls to provide the protection you need. Both repair and replacement are acceptable solutions for a damaged wall:
Seawall Repair: If repair of your wall is possible, it is the better option, as it requires much less work than replacing an entire wall. Not to mention, repairs are much less expensive.
Seawall Replacement: There are some cases where the wall is so damaged that repairs will not be enough to return it to a strong condition. In these cases, a replacement will likely be required. This is a very complex and expensive process, which is why it's important to maintain and repair the wall regularly, as it can help you to avoid unnecessary replacements.
Signs Sewall Repair or Replacement is Needed
Seawalls endure a lot of wear and tear from the daily motion of the water as well as more intense storms. This constant exposure to seawater will erode and break down the wall over time, which is why it's so important to keep an eye on the condition of the wall and perform repairs as necessary. Otherwise, the wall may give out without notice, leaving your property vulnerable to storm surges and other damage. You should pay attention to any signs that show it's time to repair or replace the wall, such as:
Parts of the seawall are showing cracks or have started to break off.
You see signs of deterioration in some slabs.
Some of the concrete slabs are leaning or seem out of place.
You notice a loss of soil behind the wall.
Rust stains are present on the wall.
The stress beam seems to be falling.
Contact Us Today
If you are interested in learning more about our seawall repair and replacement services, please feel free to reach out to our team. We can answer any questions you have and schedule a time to inspect your wall to assess its current condition. Give us a call today!
Your Premier Marine Contractor