Skip to Content
Marine Accessories in Palm Beach County and Martin County
Looking to add a bench to your dock, so you can sit back and relax when you're not out on the water? What about a brand-new railing, so you don't have to worry about anyone accidentally slipping? We sell, build, and customize dock benches, railings, and so much more. If you've been finding that walking around your dock at night has too little visibility and therefore feels dangerous, we offer to light. Lighting will not only make your dock safer but more beautiful as well. We can install a ladder, so you can more easily access your boat lift or watercraft. Just let the professionals at Marine Construction Inc know what you're looking for, and we'll get you set up with the best.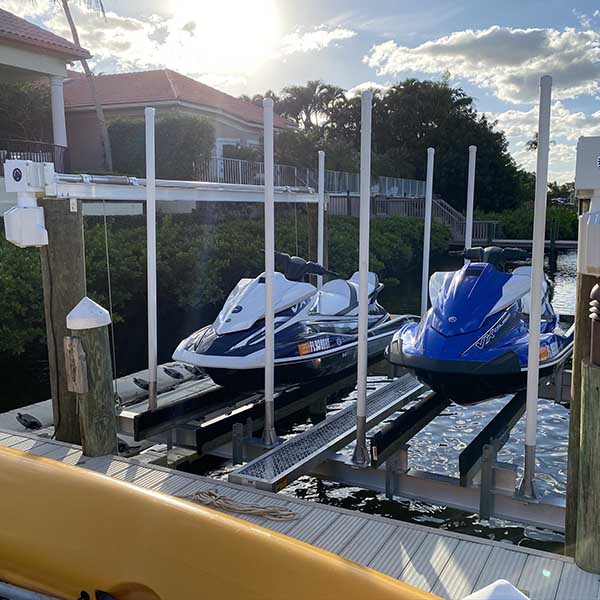 We Offer a Wide Range of Marine Accessories
Marine Construction Inc offers a wide range of marine accessories for North Palm Beach and the surrounding areas. Our available accessories include, but are not limited to, the following:
Bumpers
Cleats
Dock Boxes
Dock Benches
Fenders
Ladders
Lighting
Mooring Whips
Piling Caps
Power Centers
Railings
Tide Slides
Choose Marine Construction Inc For Accessories
We've got accessories galore. With the right accessory, you can enhance the beauty and safety of your dock, boat lift, or other marine infrastructure. As a full-service marine construction company, Marine Construction Inc has the skills, expertise, and experience needed to create, improve, and maintain marine infrastructure. Put your property in our reliable hands and fall in love with the results. We'll help you get your waterfront looking fresh as ever in no time at all. Call today to learn more about the marine accessories we offer.
Your Premier Marine Contractor