Skip to Content
We Build High-Quality Seawalls in North Palm Beach & Surrounding Areas
If you live in North Palm Beach or a surrounding area, and need a sturdy, state-of-the-art seawall to aid in erosion control, Marine Construction Inc has you covered. We build seawalls and water barriers from the highest-quality materials to ensure optimal strength and efficiency. From aluminum and vinyl sheet pile to rock/rip-rap/revetments and traditional wood, our materials ensure a dependable, aesthetically-appealing end result. Our seawalls are built and engineered for your peace of mind. We can build from your design, or our engineers can create a seawall design to meet your needs and specifications. We also provide shore restoration services, including rip-rap barriers made of native stone rocks. To learn more, get in touch with Marine Construction Inc today.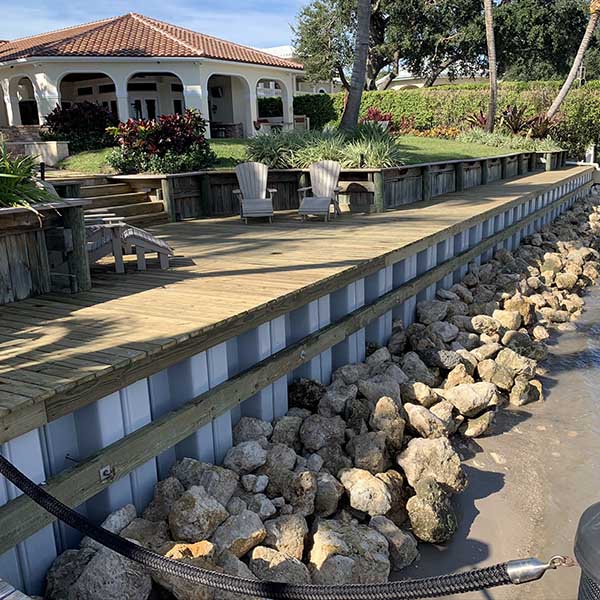 The Benefits of Seawalls
Seawalls are measures taken to protect the coastlines. These walls provide a wide array of benefits and advantages for not only one's property but also the environment. At Marine Construction Inc, we have a deep understanding of the operation and creation of seawalls and water barriers in general. Here are some of the benefits and advantages seawalls offer:
Defends against erosion and flooding
Ensures a beautiful shoreline
Provides long-term protection
Helps ensure the sustainability of the environment
Increases security and promotes investment
Extremely durable and requires minimal maintenance
Less expensive than dealing with the consequences
Protect Your Private Property With a Seawall
Protect your private property today by decreasing the risk of erosion or flooding. The skilled professionals at Marine Construction Inc can help ensure you have a reliable, long-term solution in place. No matter the type of seawall or water barrier you're looking for, we can build it and engineer it for you in an efficient and timely manner. We will also ensure it lives up to your unique expectations with no room for error. Call Marine Construction Inc today, and we'll get you and your property protected.
Your Premier Marine Contractor