Skip to Content
Premier Boat Lifts in Northern Palm Beach County, FL
Marine Construction has provided premier boat lifts to the Northern Palm Beach County and Southern Martin County, FL communities for years. As the number-one dealer of Hi-Tide boat lifts in North Palm Beach and surrounding areas, we sell the best lifts in the business. When you Google "boat lifts near me" and are flooded with options, we hope you'll choose Marine Construction. We only sell products from the best boat lift manufacturers, like Hi-Tide. Hi-Tide boat lifts are proudly manufactured in Fort Pierce, FL. The boat lifts we sell are safe, dependable, and easy to use. Our locally-owned and -operated company is guided by the principles of quality, craft, honesty, and integrity.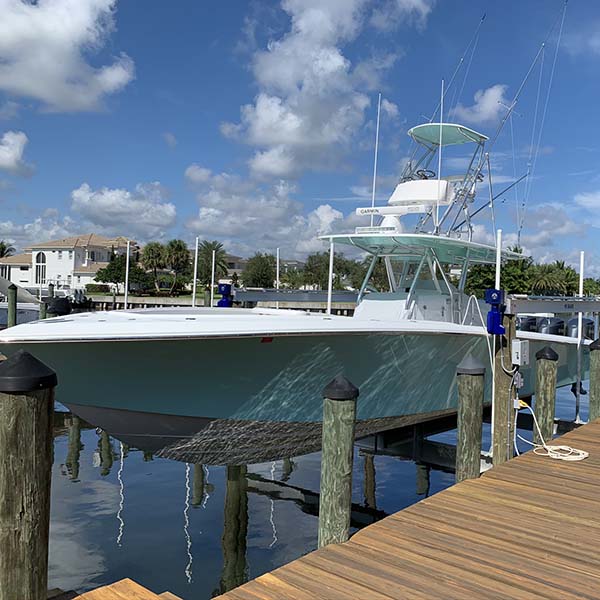 Our Boat Lift Inspection Procedure
Marine Construction offers bi-annual boat lift inspections to ensure your Northern Palm Beach County boat lift is safe and in optimal working condition. This procedure satisfies warranty requirements, extends the life of your boat lift, and prevents future problems from occurring. Because boat lifts operate in harsh environments, having your state-of-the-art equipment inspected bi-annually will allow our professionals to pinpoint any signs of wear and any required repairs.
Our Boat Lift Repair Services
We offer a service plan to fit your needs with multi-lift discounts that auto-schedule every 6 months to ensure your lift is always operating at its fullest potential. Monthly, Bi-annual, and Yearly payment options that include 10% labor and equipment discount and 5% parts discount for and repairs discovered during the inspection.
Why Choose Marine Construction?
Our full-service company specializes in marine construction, including boat lifts, docks, seawalls, and more. Our experts are well-adept at handling every aspect of any marine construction job, from engineering and design to permitting, building, and maintenance. We can create a customized boat lift for any watercraft. Whether you're looking for a boat elevator lift or a topless lift that can hoist 1,500 pounds for a jet ski and up to 180,000 pounds for a mega-yacht, we can help. We provide complete boat lift maintenance and repairs services
Contact Marine Construction Today
For boat lifts and docks, boat lift kits, used boat lifts, floating boat lifts, and more, you've come to the right place. When you work with the professional team at Marine Construction, you'll be able to choose just what type of boat lift you want. From manual and electric to floating, free-standing, overhead, and more, we provide our valued customers with a wide range of options. Marine Construction is always ready and willing to enhance people's lives with high-quality marine construction services. If you feel like your property and general lifestyle could greatly benefit from a state-of-the-art, customized boat lift, get in touch with our professionals today. We have various types of boat lifts for sale.
Your Premier Marine Contractor